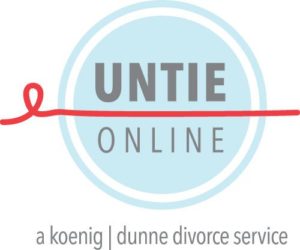 Untie Online is Nebraska's affordable divorce service created by Koenig|Dunne partner, Angela Lennon. This is a service that will empower you to complete your divorce on your own terms. By maximizing technology and providing step-by-step guidance, personalized legal documents, and support powered by our Koenig|Dunne legal team. We've reimagined what divorce support looks like.
If at any point in the process you need more support, contact us and schedule an initial consultation with one of our lawyers to see if full representation is the right choice for you.
Clio Reisman Award Winner
Untie Online received the Reisman award for innovation. Our online divorce service was internationally recognized for challenging the legal industry norms through technology and the delivery of legal services.  
Untie Online provides every legal form necessary to complete your divorce. We take you through a simple, responsive interview process to generate customized legal documents to file with the Court.
Untie Online is powered by the divorce attorneys at Koenig|Dunne. If you have a question our experienced divorce attorneys will provide an answer within 24 hours.
Everything you need to know to complete your divorce in Nebraska. From a step-by-step guide, to a comprehensive workbook and resources. We will give you the knowledge and confidence to successfully file for divorce online. 
Untie Online is an affordable divorce service, with three different membership options ranging from: 
$299 flat fee
$499 flat fee + $199 per month
$1,499 flat fee + $199 per month