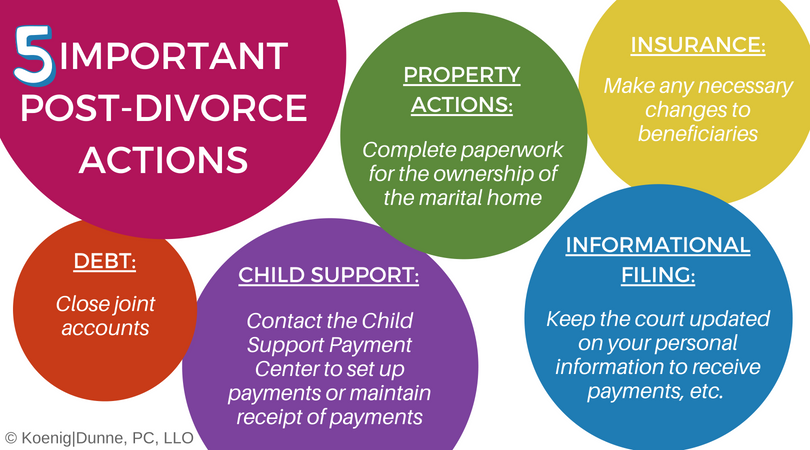 To ensure a smooth transition into your post-divorce new normal, your Koenig│Dunne team has identified the following important actions for you to take:
Informational filing.  If support (child support and/or alimony) has been ordered in your case, Nebraska law requires you to provide the clerk of the court with your address, telephone number, social security number, employer, and certain information related to employer-provided health insurance. If any of this information changes after your divorce is final, you must provide the updated information to the clerk in your county.
Property actions. If you and your former spouse owned a home and one of you was awarded the home in the divorce, it is likely that the other spouse will be required to prepare and file a quitclaim deed with the Register of Deeds in the appropriate county. If you are ordered to prepare this, make sure you do so in a timely manner (or in the timeframe specified in your decree). If your former spouse was ordered to prepare this, confirm that it was completed to ensure you own the property outright. If you were ordered to refinance the property, make sure you do so within the timeframe specified in your decree.
Insurance. Review your insurance policies, specifically, the beneficiary designations, to see whether any changes are needed. If your former spouse is named as the beneficiary, you may contact the policyholder and complete a change in beneficiary form.
Debts. If you and your former spouse had joint accounts or joint credit cards, make sure to either remove your former spouse's name or close the account entirely. Your decree should specify how to deal with these joint accounts.
Child support. If you will receive support or pay support per the terms of your decree, contact the Nebraska Child Support Payment Center to provide your name, address, direct deposit information, etc., to ensure you receive or pay your payments timely. For more information about the payment center, click here. If your case involves child support and alimony, both payments will be paid through the Nebraska Child Support Payment center.
Your decree should inform you of the post-divorce actions you need to take. Your Koenig│Dunne family law attorneys can help support you to take the necessary actions needed to move forward to the next chapter of your life.
Click HERE for a helpful post-divorce checklist.